Welcome to Ben Foster's Newsletter
Merry Christmas and Happy New Year!
2011 has been a busy year; with my Solo show Momentum kicking things off in February, followed by group shows and exciting new projects throughout the year. Here is a selection of current and recent events from 2011
Laisee - Group Show at Koru Contemporary Art
13 December 2011 - 16 February 2012

Celebrating Koru Contemporary Art's ten years of exhibiting art in Hong Kong, this exhibition takes a stroll through the galleries story and is a tribute to all the artists that the gallery has collaborated with over this time. Opening Hours: Tuesday to Saturday, 11am to 6pm
Visit Koru Contemporary Art for further details: www.koru-hk.com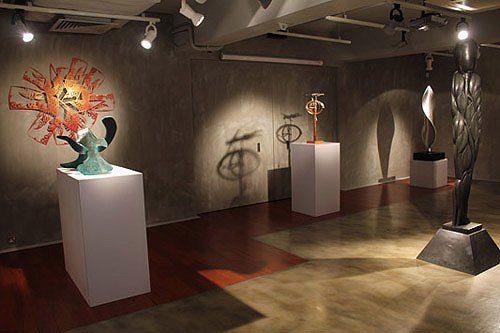 Image: Laisee Group exhibition - Koru Contemprary Art, Hong Kong. From Left: Old/New/Borrowed/Red by Neil Dawson, Dragon Spirit/Taniwha by Tanya Ashken,Foresee by Graham Bennett, Voyage II by Ben Foster, Figure in a Landscape by , Terry Stringer)
Latitude magazine - October/November 2011
With the dramatic vistas of the Kaikoura coast the backdrop for your workshop - inspiration on a grand scale is sure to emerge and emerge it does for sculptor Ben Foster whose work depicts the very form of the land and the water that surrounds him. [Read more at www.benfoster.co.nz]
The Artists: 21 Practitioners in New Zealand Contemporary Art c. 2011-2013
The Artists: 21 Practitioners in New Zealand Contemporary Art c. 2011-2013 showcases 21 full-time New Zealand artists working in sculpture, photography and painting. This publication presents emerging artists alongside established names providing in-depth information on their current practices.
Read Warwick Brown's review from the New Zealand Listener:
www.listener.co.nz
Sculptures installed in Macau's New Galaxy Casino
Three new works have now been successfully installed at the new Galaxy Casino in Macau. The two billion dollar project is host to an array of sculptures selected from the Pacific region.
Turbine II installed at the new Gallaxy Casino, Macau
Sculpture on the Peninsula

The South Island's largest outdoor sculpture exhibition was once again held at the historic Loudon Farm homestead on Banks Peninsula. The Christchurch earthquake certainly left its mark, but did nothing to deter record numbers attending what continues to be an excellent weekend of visual art.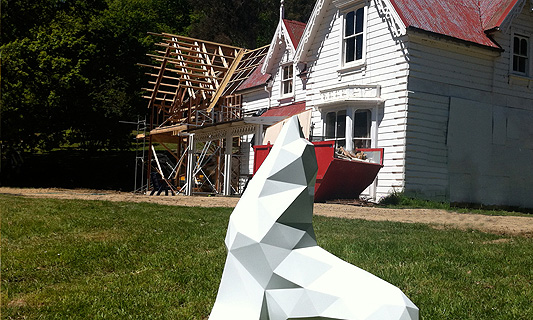 Reconstruction, Kekeno being installed near the old Loudon Farm homestead, Teddington, Banks Peninsula in preparation for Sculpture on the Peninsula
Future Events in 2012

Upcoming events for 2012 include the biannual Shapeshifter outdoor sculpture exhibition in Lower Hutt. A recent commission from the Taupo Sculpture Trust will see two new works unveiled in the Taupo township early 2012.

I look forward to updating you with more news and events in the new year.

Creative thoughts and a happy New Year,
Ben