Welcome to Ben Foster's Newsletter
2010 was a busy year with the inclusion of my work in some great shows throughout the country and 2011 is off to a great start. Here's a snapshot of 2010 and the year so far:

Momentum - Solo show at Sanderson Contemporary Art

My solo show Momentum is now open at Sanderson Contemporary Art in Auckland. Momentum presents six works from my current practice and is a culmination of the past five years of experimentation and development. It is also an indication of the future direction of my sculptural practice.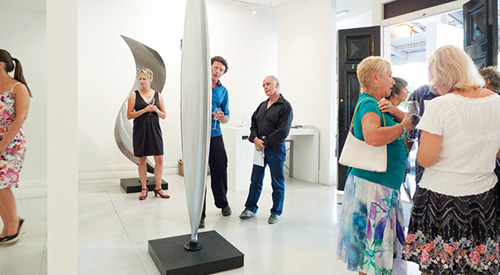 Image: Momentum show opening at Sanderson Contemporary Art (Image Sait Akkirman)
Sculpture in Central Otago
Sculpture in Central Otago at Rippon Vineyard opened on February 4th to rave reviews. I was one of 25 sculptors who were selected to exhibit at this year's outdoor exhibition set in the picturesque lakeside town of Wanaka, where I exhibited Momentum.
The exhibition runs until May 1st, so there is plenty of time to get to Wanaka and take a stroll along the 1.5km sculpture trail.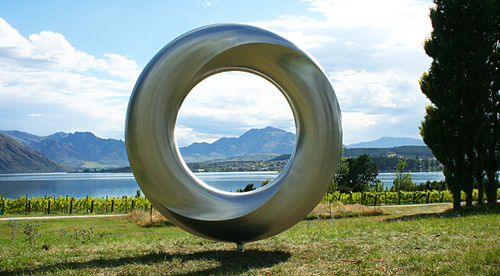 Image: Momentum installed at Rippon Vineyard, Lake Wanaka (February 2011)
NZ Sculpture OnShore
In November 2010 my work Turbine I was included at NZ Sculpture OnShore. More than 100 sculptures were on show at the dramatic cliff top site of North Shore's Fort Takapuna. The largest outdoor sculpture event in New Zealand, NZ Sculpture OnShore presented works from leading and emerging sculptors. Record numbers attended the 10 day event.
Image: Twist II installed at Art in a Garden
Art in a Garden

Art in a Garden once again proved to be a successful weekend. The annual sculpture exhibition in the stunning Flaxmere gardens was the perfect setting for this group show.
New Work
With much planned for 2011, I look forward to keeping you updated with new works and events
Image: Windswept installed on Kaikoura Beach
Creative thoughts,
Ben