Welcome to the March edition of my quarterly newsletter,
updating you on my recent sculptures and events.
Turbine, Cast Aluminium, 2010 at the Ellerslie Sculpture Garden
Up and coming!
I am pleased to announce that I am featuring in 3 exciting exhibitions in the coming month. I have been selected to exhibit at Ellerslie Flower Show, the Heartland Sculpture Challenge and Sculpture in the Landscape. It is great to be part of such widely recognised and fantastic shows and I hope you get the opportunity to visit one of these during the next few weeks.
I am 1 of 20 New Zealand artists to be selected fo the Ellerslie Flower Show in the "Garden City". Look out for the sculpture Twist, and the new work Turbine, as you stroll around the lake in the Ellerslie Sculpture Garden.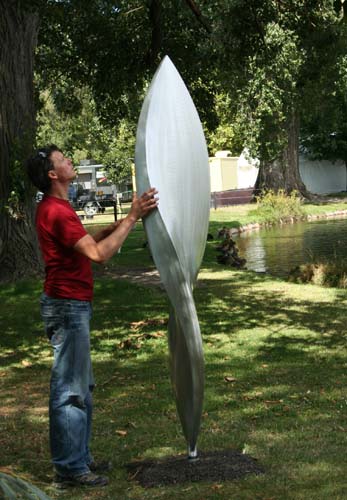 Installing Twist at the Ellerslie Garden Show
For the Heartland Sculpture Challenge based in Timaru, I have been working on a new and experimental project called People-go-Round, which will be exhibited in Geraldine from 14th - 21st March, 2010. This "HeARTland" art competition is designed to bring art to rural towns and has been a fantastic opportunity to create a new piece that the public can enjoy.
People-go-round, Galvanised Steel and Aluminium, 2010
People-go-Round is also being exhibited at Sculpture in the Landscape at Waitakaruru Sculpture Park in Hamilton. It celebrates the windmill in it's most basic form and is a homage to "do it yourself" wind generators and a simpler state of existence. It-s stylized human figures make comment on the cyclical nature of the human condition.
Work in Progress
I am continuing to work on large scale aluminium peices but am beginning to explore and develop techniques to expand the complexity of shape and form. I have some great concepts that I am continuing to work on...
Thank you for taking the time to explore my work, I hope you get a chance to enjoy the exciting events and please contact me anytime if you would like more information.
Creative thoughts,
Ben Foster