Welcome to the Christmas edition of my quarterly newsletter,
updating you on my recent works and events.
Exhibitions and Sculptures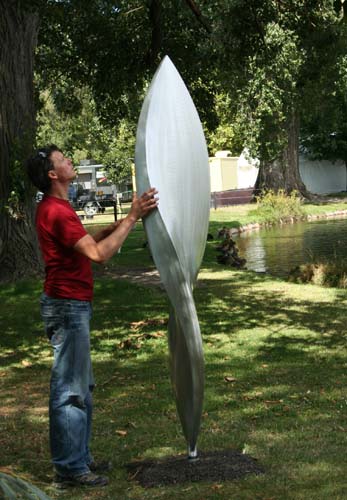 Twist I, Cast Aluminium, at Art in a Garden, 2009
Kia Ora and Merry Christmas! Thank you for spending the time catching up on my latest ventures.
The exhibition season is already upon us and I have had a great start, thanks to Penny Zeno and her team at Art in the Garden. Twist I, my latest cast aluminium piece received rave reviews and was snapped up.
As the evolution of Standstill, my very first cast peice, Twist I is of an increasing complexity and difficultly and is part of a continuing inquiry into the creation of large scale sculptures through the replication of a single section. This process has become a recurring theme within my practice, as I continue to develop and push the potential of complete forms emerging from the replication of single sections.
Also popular was my smaller peice titled Piwakawaka. These fun sculptures were created to capture the delight and playfulness fantails envoke in the garden. They are a limited edition and I aim to create a number of similar peices based around native birds.
I am currently exhibing at Sculpture in the Park in Waitakaruru Arboretum curated by Rob Garrett. Finishing at the end of Feburary there is plenty of time for a visit! I also have a number of peices in Two Rivers gallery.
Current Works in Progress
I am continuing to work in the theme of "fight and flight" but am also exploring the potential of "productive" sculpture. I have always seen the potential of using sun and wind energy in sculpture and I am now beginning to explore how I can create inspirational artworks that can generate their own energy. The first of these works, People-go-Round is currently in Two Rivers Gallery. It utilizes stylized human figures to show the potential of sculpture as a wind generator, whilst commenting on the cyclical nature of the human condition.
People-go-round, Concept Sketch, Conte on paper, 2009
Creative thoughts,
Ben